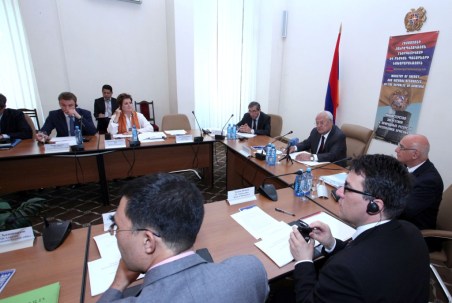 30.05.2014
Presentation with Participation of International Financial Organizations
Presentation with Participation of International Financial Organizations
On May 30, in the Ministry of Energy and Natural Resources was held a Presentation about the development directions deriving from the Energy Security Concept of RA.
The Presentation was attended by the head of the delegation of the European Union-Ambassador in RA, and the head of the operational department, the Armenian Mission director of U.S. Agency for International Development, as well as managers and representatives of various international organizations and financial institutions.
The main aim of the meeting with the international organizations and the financial institutions operating in Armenia was to present to partners of the energy sector the Energy Security Concept of RA, approved on October 23, 2013, and the arising development directions from it, and most importantly, to provide the international financial organizations information and coordinate on the implementation of strategic plans of the system.
The energy sector's prioritized activities and plans are also reflected in the new Government program, which was approved by the National Assembly. Some of them are already being implemented with the support of international financial institutions soft loans and grants.
The Minister of Energy and Natural Resources Yervand Zakharyan welcomed the participants and said:
- During the past years it were created new energy capacities, realized many technical re-equipment works of the high-voltage substations and air lines reconstruction works, directed to strengthening and raising of Armenia's energy security and reliability.
Many of major infrastructure projects currently underway due to the credit means of international financial institutions, said the Minister.
Yervand Zakharyan said, that the government's new program includes the energy sector's important strategic initiatives, among them the construction of new Armenian Nuclear Power Plant, the construction of Armenia-Iran, as well as Armenia-Georgia 400 kw transmission lines and substation construction with leaf for constant power.
Today, Armenia is discussing with Russia the NPP unit operation extension loan issue: the negotiations are in the final stage.
The Minister stressed the importance of the role of the international organizations and their willingness to cooperate for the development of the energy sector:
-During the past 20 years, there were implemented many successful projects in energy sector with the participation of many international organizations attended.
On behalf of the Ministry of Energy and Natural Resources of the Republic of Armenia, I reaffirm our willingness to continue close cooperation with you and I am confident, that our joint efforts will give the desired result, said Yervand Zakharyan.
The Deputy Minister of Energy and Natural Resources Areg Galstyan detailed the development directions araising from of the Energy Security Concept after which participants had the opportunity to ask questions to the leaders of Armenia's energy sector.