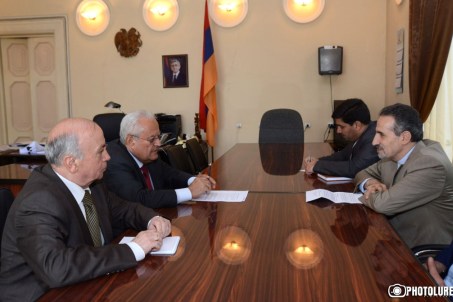 03.06.2014
The Minister Received the IRI Ambassador
The Minister Received the IRI Ambassador
Օn June 3, the RA Minister of Energy and Natural Resources Yervand Zakharyan received the Extraordinary and Plenipotentiary Ambassador of Iran Islamic Republic in Armenia Mohammad Raiesi.
The meeting of the newly appointed Minister and Ambassador Raiesi was spent in a warm and practical atmosphere.
As the Minister Yervand Zakharyan signed, the Armenian-Iranian relations and energy cooperation is very important to Armenia's energy sector development and progress.
The Ambassador Raiesi congratulated Yervand Zakharyan with his appointment in this new position, and said, that the development of relations with Armenia is one of priorities for Iran 's foreign policy, and Iran is ready to expand bilateral and multilateral cooperation in various fields, especially in the energy sector.
The two sides have discussed the Armenian-Iranian energy cooperation issues and joint projects.
The meeting participants have paid special importance to the Armenia-Iran high voltage 3rd power line construction in the context of development and expansion of bilateral relations, as well as, they have discussed the Meghri HPP construction problems.
The participants also noted, that the Armenian-Iranian energy projects and the cooperation prospects will be discussed in detail in Tehran, during the 12th session of the RA and IRI Intergovernmental Committee.