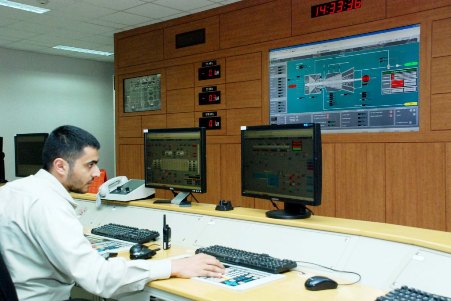 21.07.2014
The Repair Works are Completed: The YCCPP Station Produces Electricity
The Repair Works are Completed: The
YCCPP
Station Produces Electricity
On July 20, at 18, the new unit of Yerevan TPP Combined-Cycle Power Plant connected to the electricity system and restarted electricity production.
Note, the C1 Inspection (repair works) of the Combined-Cycle Power Plant Unit was started on June 3 and must be continued to July 29.
The director of plant Hovakim Hovhannisyan informed, that the repair works are carried out round the clock, according to the schedule, the regulatory requirements are fully done and the station restarted production of energy in 9 days earlier than planned.
- The significance of the YCCPP Unit for our country's energy balance is great. The tariff for the electricity produced here is less, than the production of other TPPs. Therefore, we have done everything to join the unit a few days earlier, said Hovakim Hovhannisyan.
The YCCPP Unit was built and completed in 2010, April 21. The construction works were funded by the Japan Bank loan program for International cooperation and lasted for 22 months.
From 2010 April 21 to 2014 June 3, the unit has worked in ongoing load schedule and has delivered to the RA electricity system about 6.2 billion kWh of electricity. In above-mentioned period, due to the high efficiency (about 50% efficiency greater), the unit contributed to deterrence of rates of electricity, in the natural gas price growth conditions.
There is an electronic calculator placed in the CCPP Unit, which calculates allowable standard lifetime and records the actual operation of the unit interval, also.
The standard lifetime of the YCCPP, defined by the manufacturers, is 36 000 conventional hours, and the Unit, from 2010 April 21 to 2014 June 3, already had worked on more than 39 000 conventional hours.
The excess of the actual work conventional hours in future might be highly dangerous, and might cause serious and irreparable injury of the equipments, the restoration costs of which could be ten times more compared to repair costs.
Besides, the excess of the actual standard operation period would result in the elimination of the guarantees provided by the manufacturers.
Today the YCCPP unit has been completely renovated and can work safely a little more than 4 years or, as experts say, 36 000 conventional hours.