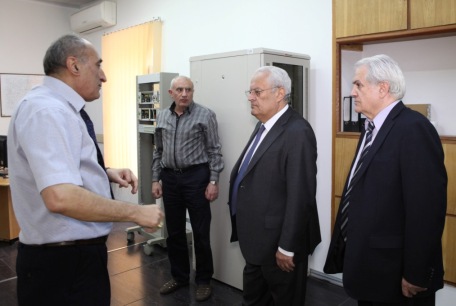 07.05.2014
The Minister Visited the Companies of the System
The Minister Visited the Companies of the System
Օn May 7, the Minister of Energy and Natural Resources Yervand Zakharyan visited the three companies of the Ministry system, namely " Energy System Operator" CJSC, ''Settlement Centre ''CJSC and "Energy Debugging" CJSC.
The Minister has got acquainted with the employees of the companies and has a talk about their ongoing functions.
The director of "Energy System Operator''company 's Mnatsakan Mnatsakanyan introduced to Yervand Zakharyan the communication system SCADA , which was based in the energy sector in 2010, and due to its contribution the management of electric power systems has become more flexible and easier.
The special program gives an opportunity to decrease reallocating electric losses, to optimize the production, to make more correct predictions of loads and electricity. On the basis of archival data detailed researches and analyses of different regimes and damages can be done.
Director presented the main power control center, a new electronic control panel, as well as the central communication hub.
''Energy Debugging '' CJSC Director Albert Baghdasaryan introduced the activities of three unique laboratories: chemical, oil analysis and metals testing.
The Minister Yervand Zakharyan also has meetings with the employees of Mining Granting Agency, Mining Department, Mining State Inspectorate and Energy State Inspectorate of the Ministry and became acquainted with their working conditions, functions and programs realizing by them.