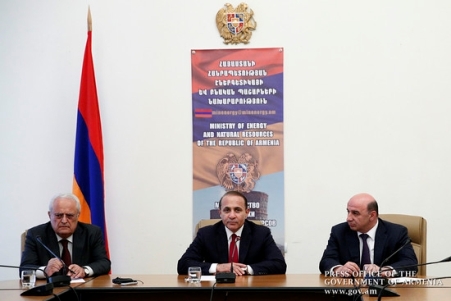 30.04.2014
Yervand Zakharyan Appointed to the Office of Minister of Energy and Natural Resources
Yervand Zakharyan Appointed to the Office of Minister of Energy and Natural Resources
On April 30, 2014, in accordance with the decree of the President of RA, Yervand Zakharyan was appointed to the office of Minister of Energy and Natural Resources.
The same day, the Prime Minister Hovik Abrahamyan introduced newly appointed Energy and Natural Resources Minister Yervand Zakharyan to the staff of the ministry. The head of Government thanked former Minister Armen Movsisyan for long-term work and cooperation.
"Yervand Zakharyan is well aware of the energy sector. I am sure, he will do everything necessary to resolve the existing problems", said Hovik Abrahamyan.
The Prime Minister congratulated the newly appointed Minister and wished him fruitful work.
Yervand Zakharyan thanked the President of RA and the Prime Minister of RA for the confidence and signed, that he fully realizes the importance of the energy sector to the economic development of the country and the responsibility, which he assumed.
The newly appointed Minister of Energy and Natural Resources assured that with the professionals of the system he will do everything possible to cope with the tasks set before him.