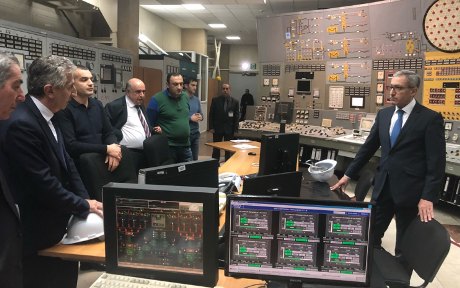 02.02.2018
Minister Manukyan visited the ANPP on a working visit
RA Minister of Energy infrastructures and Natural Resources Ashot Manukyan visited Armavir marz on February 2.
A working consultation was held headed by the Minister at the Armenian Nuclear Power Plant, dedicated to the program works to increase the safety of the nuclear power plant, the preparations for the 2nd stage of the work on the project for the extension and upgrading of the second block of the NPP, which, according to the schedule, will kick off on April 14
The Armenian Nuclear Power Plant head staff and the engineering staff took part in the consultation. Another issue on the agenda was the program of modernization. According to the executives, in the second stage, it is planned to carry out replacements of devices and equipment. Ashot Manukyan attached importance to the necessary work to increase the level of preparedness of the ANPP staff.
The Minister highly assessed the contribution of the ANPP staff, work experience and professionalism, at the same time to emphasize the necessity of preparing young specialists in the field of atomic energy with the aim of replenishing the staff of the nuclear power plant with young staff.
Ashot Manukyan toured the ANPP, got acquainted with the current activities of the Armenian Nuclear Power Plant, the results of its economic activities, as well as the preparations for the measures to expiration of the second block.