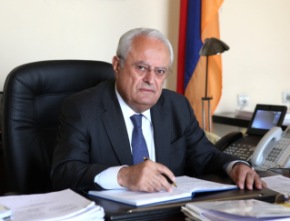 18.07.2014
CONGRATULATIONS
CONGRATULATIONS
July 20 - Day of Miner's and Metallurg's.

The third Sunday of July is celebrated as a Miner's and Metallurg's Day each year.
The July 20 is the professional holiday of workers, who has made ​​a great investment to economic development and industry of the Republic.
The Day is festive for all those, who are engaged in mineral extraction, whose work is related to the difficult struggle with nature for the natural resources.

The mining sector is essential for the developing economy of Armenia.
Its vivid evidence is the annual increase in jobs, production capacity and investments in this sector.
The Ministry of Energy and Natural Resources of the Republic of Armenia congratulates the Miner's and Metallurg's with their professional day and wish them good health and professional success for the benefit of very important sector to Armenia's economy-the mining industry development.

Minister of Energy and Natural Resources
Yervand Zakharyan