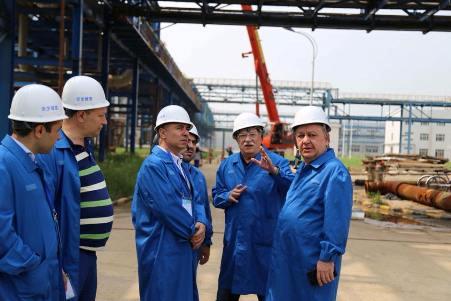 30.07.2018
Minister Grigoryan has visited Shanxi-Nairit joint venture in China
In the framework of visit to the People's Republic of China, the delegation led by RA Minister of Energy Infrastructures and Natural Resources Artur Grigoryan has visited "Shanxi-Nairit" joint venture.
During the visit to the factory, representatives of "Shanxi-Nairit" JV have introduced the Minister with the production capacities of the venture, as well as the current technological and technical condition of the latter.
"Shanxi-Nairit" JV has been put into operation since 2010. The venture was established on the basis of the contract signed between "Shanxi Synthetic Rubber Group of Company" (PRC) and "Nairit" CJSC (RA) in 2003. The share of the Armenian party in "Shanxi-Nairit" is 40%.
The production capacity of the joint venture is 30 thousand tons, which was achieved by the results of the previous year.
Minister Grigoryan also had a meeting with the shareholder of "Shanxi-Nairit" JV, General Director of the Company "Blue Star". A number of issues were discussed, including possible options for reducing interest rates on loans provided by Blue Star to "Shanxi-Nairit" JV.
Both sides agreed to increase the production volumes of the venture, sell products and expand markets.
During the meeting Minister Grigoryan suggested to hold an international audit at "Shanxi-Nairit JV to create appropriate financial conditions for replenishment of Armenian quota positions.