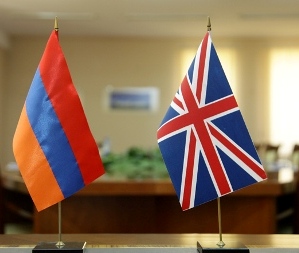 09.04.2018
Ashot Manukyan is in London on a working visit: the visit of British businessmen to Armenia intended in June was discussed
The Minister of RA Energy Infrastructures and Natural Resources Ashot Manukyan, who is in the United Kingdom on a working visit, met with UK Prime Minister's Trade and Investment Special Commissioner in Armenia and Georgia Marc Pritchard.
Organizational issues related to the British businessmen and investors'visit to Armenia intended in June and also the investment programs they are interested in were discussed. Ashot Manukyan, in particular, presented the work on the establishment of a vocational training center creation in the field of energy, the possible directions of the British side's participation in the establishment of the center.
Investment projects for the construction of solar and storage facilities and with the principles of involving British businessmen in them were also discussed. The Acting Minister referred to the process of implementation of the pilot project for construction of the first accumulative station in Armenia with a capacity of 14 MW and to the continuing increase in the share of renewable energy in the structure of electricity internal consumption.
They also touched upon the possibilities of implementing cooperation programs in tourism development.
Marc Pritchard assessed constructive cooperation with the Armenian side and expressed confidence that the British businessmen' visit to Armenia in June will be effective and mutually beneficial. Clear arrangements have been reached on the timetable of steps to coordinate the preparations for the visit and on the future course of the visit.