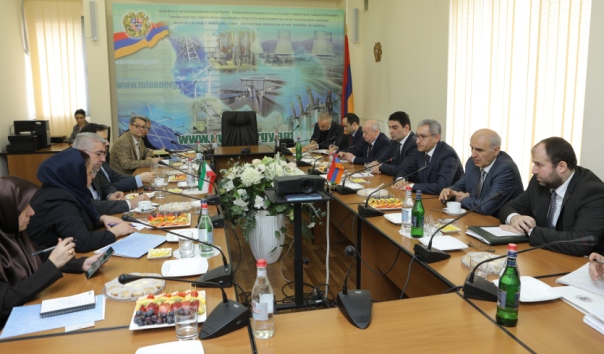 28.02.2018
RA Minister of Energy infrastructures and Natural Resources meets with Iranian Energy Minister
Within the framework of the 15th session of the Armenian-Iranian Intergovernmental Commission held in Yerevan on February 26-27, the RA Minister of Energy infrastructures and Natural Resources Ashot Manukyan met with the delegation headed by IRI Minister of Energy Reza Ardakian.
Minister Ashot Manukyan welcomes Mr. Ardakian and his headed delegation visit to Armenia and stressed that it will contribute to the further activation of the Armenian-Iranian intergovernmental commission. The interlocutors discussed joint projects of mutual interest, including the course of infrastructure projects and possibilities of new investment projects for Armenia and Iran. In this context, in particular, they touched upon the ongoing works on construction of 400 kV Iran-Armenia high line. As a result of the project implementation, Iran's electricity exports to Armenia can reach up to 1400 MW.
Ashot Manukyan also touched upon the construction of the second power block of the "Yerevan" Thermal Power Plant and considered it as part of the electricity project for gas highlighting the completion of the construction works of the "Yerevan" Thermal Power Plant parallel to the construction of the third Iran-Armenia high-voltage line parallel.
Expressing gratitude for the reception and attaching importance to the activities of the Armenian-Iranian intergovernmental commission, Reza Ardakiani, Minister of Energy of the Islamic Republic of Iran, underlined that the intergovernmental commission's meetings are an effective platform for discussing and finding solutions to the Armenian-Iranian cooperation agenda.
The energy sector officials of the two countries also touched upon the Armenian-Iranian cooperation in the field of environmental protection, in particular in the field of water resources management. Minister Ashot Manukyan expressed readiness to continue the joint work in that direction. The interlocutors also exchanged thoughts over the "Meghri" Hydroelectric Power Plant's investment program and reached an agreement to attract additional financial resources, to organize a meeting with the participation of stakeholders in Tehran in the near future.