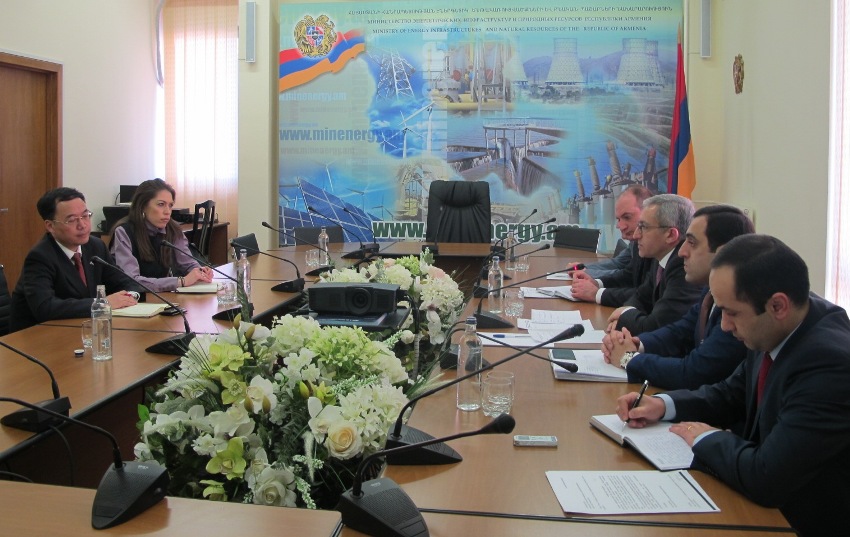 01.02.2018
Minister Ashot Manukyan Receives Head of Asian Development Bank's Mission
RA Minister of Energy infrastructures and Natural Resources Ashot Manukyan on February 1 hosted a delegation led by Tianhua Luo, head of the Asian Development Bank's (ADB) mission. The programs implemented with the support of the Bank in the field of energy and opportunities for further cooperation were discussed.
Welcoming the guests, Ashot Manukyan highlighted the multilateral support rendered by ADB to Armenia, especially in the direction of reforms. The Minister noted that the Automated Control System (SCADA), provided by the "Reconstruction of power transmission network" program, reconstruction works of "Agarak-2" and "Shinuhayr" substations are in process and successfully implemented.
Presenting the programs envisaged in the system, the Minister emphasized the bank's support in terms of improving the management efficiency of the "High Voltage Electric Networks Company", technical re-equipment and other energy projects, considering that the construction of Armenia-Georgia new high-voltage line construction and connection to Armenia-Iran high-voltage line will enable Armenia to transit electricity to Iran and Georgia and then to Russia.
Among other programs, ADB also supports the "Electric Networks of Armenia" large-scale reconstruction program.
"Ten years later, we will have modernized and up-to-date electrical networks ",- said Ashot Manukyan.
The meeting also touched upon the implementation of a number of ADB-funded projects and opportunities for further cooperation. The interlocutors reaffirmed their willingness to continue and deepen the partnership. Expressing gratitude for the meeting, Tianhua Luo conveyed the Asian Development Bank's readiness to support Armenia's economic and energy development programs. He also noted that the bank is interested in the programs presented and is ready to consider further ADB's participation. The sides also touched upon other issues of mutual interest. It is expected that they will continue in the near future.