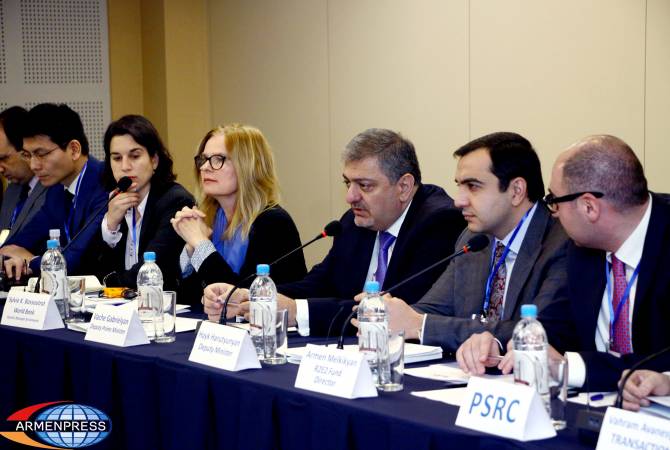 31.01.2018
10 international organizations are fighting for the construction of Masrik-1 solar photovoltaic station
Today, on January 31, Yerevan hosted a Pre-bidding conference within the framework of procurement procedure of "Industrial scale Masrik-1 solar photovoltaic program in Armenia" organized by the Armenian Renewable Energy and Energy Efficiency Fund. Participated in the activities of the RA Ministry of Energy and Natural Resources, World Bank, Public Services Regulatory Commission, as well as representatives of international financial institutions and local banks. All 10 organizations that passed the pre-qualification stage during the conference presented the conditions for the solar photovoltaic station construction﹐comprehensive answers to their questions were asked.
According to Deputy Minister of Energy infrastructures and Natural Resources of Armenia Hayk Harutyunyan, the company will win the tender for the construction of the plant, which will offer the minimum tariff for electricity production.
"The construction of this station will be a major contribution to the development of renewable energy as our ultimate goal is to have a competitive tariff that has a positive impact on the industry. The competition was announced in April 2017. At the beginning, a pre-qualification round was held, with more than 60 organizations participating. The conditions of this stage were very strict. Top 10 qualifying firms overcome the pre-qualification stage - from Korea, China, India, the EU, USA",- said Hayk Harutyuntan.
It should be noted that the program envisages creation of a 55 MW station in the administrative territory of the Greater Masrik district of Gegharkunik province, which annually produces about 80-90 million kWh of electricity, 1.5% of Armenia's total production.
The results of the competition are expected to be summed up in 2018. in spring.