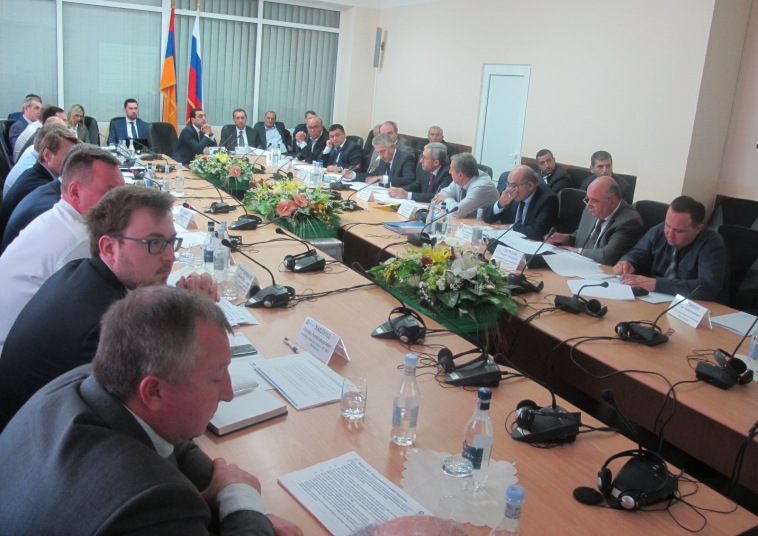 06.10.2017
During 2018 more than 600 workers will be involved in the implementation of the ANPP activities
Within the framework of the implementation of the extension and upgrading of the second unit of the Armenian NPP The fifth session of the Armenian-Russian Joint Coordination Committee took place at Armenian Nuclear Power Plant on October 6- led by RA Minister of Energy infrastructures and Natural Resources Ashot Manukyan and First Deputy Director General of Rosatom State Corporation Kirill Komarov.
The participants of the session heard about 2017 planned preventive maintenance work, touched upon future tasks. Discussed in 2018 during the planned, in particular, issues relating to supply schedules for replacement and upgrading of equipment. It was pointed out that this year the supply of basic equipment for turbine (machinery) workshop, turbine generator, block transducer will start. It was noted that the infrastructure attached to the ANPP will be restored to implement the project. Particularly, the Armavir-Arshaluys section of the railway has already been repaired. Reconstruction of a number of infrastructures has been planned, as well as improvement works will be performed at the station.
According to Russian experts, only in 2018 more than 600 workers will be involved in the construction of the Armenian NPP.
Issues related to the preparation of personnel in the field of atomic energy were also discussed at the meeting of the Coordinating Committee.