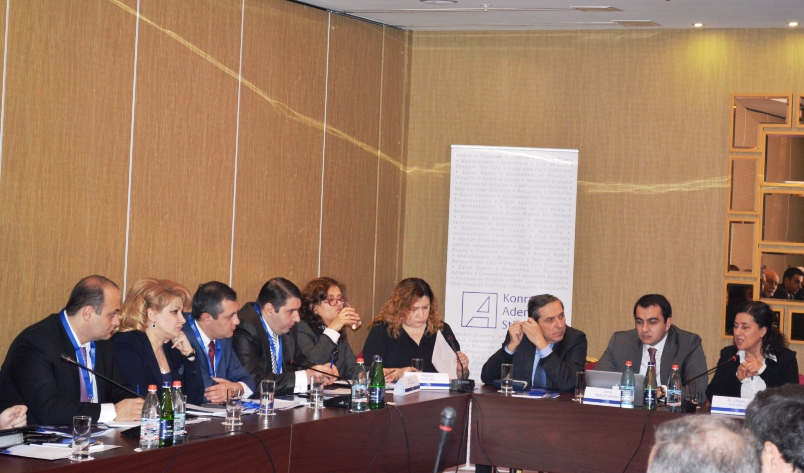 10.12.2014
There is no Alternative for Renewable Energy Development
On December 10, by the initiative of the RA Ministry of Energy and Natural Resources and by the support of the Armenian Renewable Resources and Energy Efficiency Fund and Conrad Adenauer Foundation was held the Conference devoted to Renewable Energy.
The Conference was attended by the representatives of relevant state institutions, international organizations and projects, public and financial institutions, as well as investors, experts and other interested persons.
The main goal of the ceremony was to discuss the achievements, developments of renewable energy sector in recent years with the representatives, including legislative reforms, funding opportunities, technological innovations, as well as, to revert the problems and the future development projects of the sector once again.
The RA Deputy Minister of Energy and Natural Resources Hayk Harutyunyan, presenting the current state of the energy system and renewable energy development policy, noted that it is invaluable the role of the renewable energy in raising of the level of Armenia's energy independence, as a consuming of its own resources.
According to him, the certain actions and concrete programs are required to achieve the targets designed in long-term prospect of the energy system.
Hayk Harutyunyan also noted that the development of renewable energy is one of the main priorities for Armenia's energy strategy, and a number of strategic and legal documents are approved in Armenia in order to stimulate the investments in the sector.
According to studies, Armenia has quite a lot of resources of its own renewable energy, the use of which will allow to satisfy up to 30% of the electricity demand in 2025 (the latter does not include the electricity potential produced on the base of the geothermal energy, the direct conversion of solar energy, biogas and the significant part of wind energy).
The hydro resources are mostly used as a type of renewable energy resources today.
The hydro energy has ensured about of 29% of the electricity output of our country in 2013.
The conference speakers also have touched upon the issues related to the investment environment of the renewable energy sphere, the environmental and social assessment questions of other branches- the geothermal energy project, as well as the solar technology investment calculation features.
The participants of the meeting expressed the hope, that such initiatives will promote the mutually beneficial cooperation between the various agencies and organizations, which will enable the most effective using of the Armenia's renewable energy potential due to the joint projects.