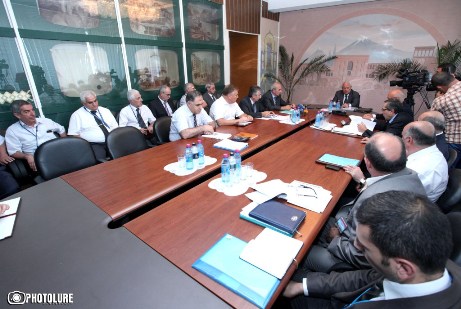 04.07.2014
The NPP Will Stand for Planned Repair in September
The NPP Will Stand for Planned Repair in September
On July 4, the Minister of Energy and Natural Resources Yervand Zakharyan has visited the Armenian Nuclear Power Plant, where has occurred the annual reporting meeting of shareholders.
During the meeting was submitted the report of the works done in 2013, as well as the work process of the recharging, annual planned renovation, also the introduction of measures to enhance the security level planned in September 2014.
After the tour in the Plant, the Minister Yervand Zakharyan noted in the interview, that Armenia and Russia will sign an agreement, under which Russia will provide 300 million dollars loan to extend the nuclear power plant's operation terms.
As the Minister has noted, the negotiations with Russia are approaching to the end.
"We're talking about the long-term loan with the low interest rate", he said.
As for the plant's regular planned maintenance activities expected in September, the station will be suspended for 45 days.
- We have to try to shorten the times frame, because the station's temporary suspension is having serious consequences.
-Of course, this should not be at the expense of safety, the minister said.
He has also assured, that the planned reconstruction of the plant will have no impact on already raised rates, as the Public Services Regulatory Commission has also calculated the works and has included in tariffs.
Yervand Zakharyan has recalled, that, due to the unplanned stops during the last year, approximately 320 million kilowatt / hours of electricity was not produced in a plant, because of which the ENA had bought more expensive electricity from "HrazdanTermal Plant" and from "5th Power Unit of Hrazdan".
Yervand Zakharyan said, that today the ANPP has accumulated financial obligations.
"Their volume is fluctuating between 9-9.5 billion drams. The financial obligations arose as a result of management of borrowing and credit funds. We should be able to implement more effective management over the years", the minister said.
Yervand Zakharyan also referred to the new power plant construction, adding that the new unit will cost about 4.5 billion dollars.
"Part of the loan the Russian government is going to provide as products, equipments, and the other part we are going to fulfill through financial subsidies, acquired as a result of the negotiations with other countries " said Zakharyan.
He said that the construction of the new power plant is scheduled to begin in 2018-2019.