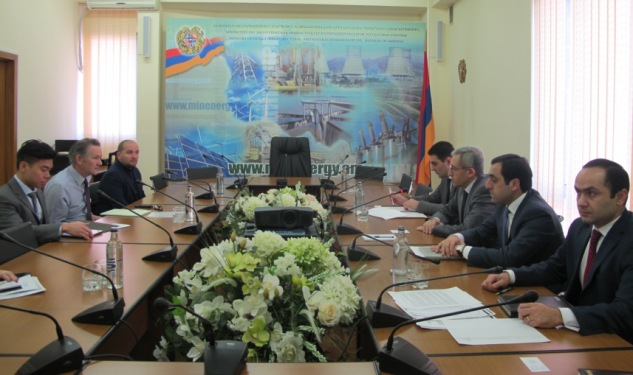 06.02.2018
The Minister received the delegation of "Moody's" international rating agency
RA Minister of Energy infrastructures and Natural Resources Ashot Manukyan received a delegation led by Deputy Chairman of the International Rating Organization "Moody's Investors Services", Martin Petch, which is in Armenia within the framework of the reconsideration of our country's sovereign rating.
Welcoming the guests, Ashot Manukyan highly assessed the organization's mission and existing cooperation, at the guests' request, presented the reforms in the fields of energy, mining, main development indicators and prospects. During the meeting, the Minister touched upon the projects implemented in the mining industry, in particular, on the issues of digitalization of the geological fund and access to information on electronic platforms, increasing the efficiency of small mines management, as well as legislative amendments and policy priorities. Speaking about the projects envisaged in the framework of regional integration within the power system, the Minister said, that the construction and connection of the new high-voltage line of Armenia-Georgia highway will enable Armenia-Iran high-voltage line to turn Armenia into a transit country of electricity with Iran and Georgia and then to Russia.
Ashot Manukyan also presented to the interlocutor the projects carried out in the sphere of re-equipments, in particular, the projects of the "Masrik-1" solar photovoltaic station and "Shnogh" hydro power station.
At the end of the meeting, Martin Petch thanked the Minister for the detailed presentation of the field's characteristics and expressed readiness to deepen the cooperation.